New easy iDisk Public folder web address
Apple has announce a new simpler way to access iDisk Public folders with a browser. Simply entering the URL http://idisk.mac.com/membername-Public now produces a page that automatically includes download links for whatever's currently in membername's Public folder. All you need to do is give the URL for your iDisk Public folder to the friends and colleagues you share with. They'll see and be able to download whatever you put in there, whenever they visit the page.
If you prefer, you can also let friends and colleagues use your iDisk Public folder page to upload and share files themselves.
advertisement: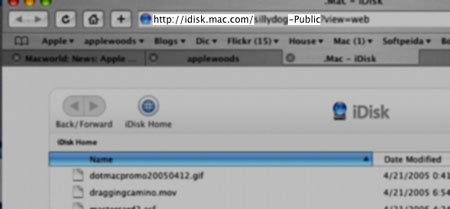 Source: New easy iDisk Public folder web address (official page)
Posted by Antony at May 11, 2006 7:12 AM
>> more
MacCentre701 May 2006 reports
.