Aperture 1.5.2 update released
Apple today released Aperture 1.5.2, a free update to Aperture 1.5 owners. Aperture 1.5.2 Update is available from Software Update or Apple Support Download.
Aperture 1.5.2 addresses issues related to overall reliability and performance in a number of areas, including:

Contact sheet printing
Smart Albums
Watermarks
Lift and stamp
Image export
Versions created using an external editor

This update is recommended for all Aperture users
advertisement:
As we mentioned previously, Apple is offering 30-day free trial for Aperture 1.5. If you are a professional photographer and haven't bought Aperture, this is a good opportunity to test out Aperture before you buy. If you are interested in trying out Aperture 1.5, please visit this page.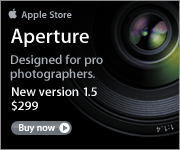 Managing RAW, JPEG and TIFF images in Aperture 1.5 is incredibly flexible, with a new open library system that allows photographers to store image files wherever they want—either within the Aperture library itself, or in other disk locations, including external hard drives, CDs or DVDs. Aperture can now generate high-resolution previews of each image so that users can review, rate and organize images as well as perform slideshows—even when the master images are offline.
Aperture 1.5 is available this week in English, French, German and Japanese as a free Software Update to current Aperture 1.0 customers. Aperture 1.5 is priced at US$299 for new customers.
Apple released Aperture 1.1 on 13th April 2006 and cut the price from US$499 down to US$299.
Aperture (official website)
Join our discussion at SillyDog701 Message Centre.
Posted by Antony at December 12, 2006 3:35 PM
>> more
MacCentre701 December 2006 reports
.