send SMS with Bluetooth mobile from your Mac
This is part of our Mac is smart series. Our Mac is smart will focus on something that's not really a "big" feature, but useful and making the life easier.
Many people know that it is very easy to use iSync to link Bluetooth mobile for calendar (iCal) and contact list (Address Book). In fact, you can also send text messages (SMS) via your linked Bluetooth phone directly from your Mac. It's built-in, you don't need any other software.
advertisement:
Once you paired your Bluetooth mobile to your Mac, all you need to do is switch on the Bluetooth on your mobile, then click the Bluetooth bottom on your Address Book as shown in picture below: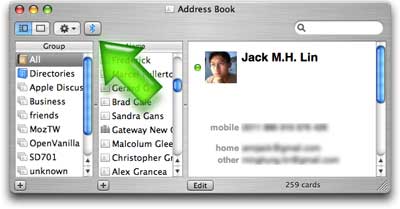 Next select the person you want to contact, and click on the "mobile" (or "home" or any label next to the phone number, you should see a pop-up similar to below: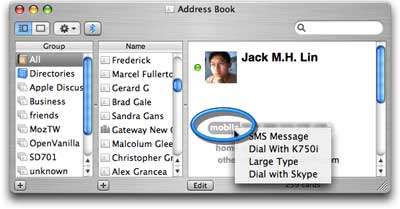 Just select SMS, and you can send Text Messages (SMS) directly from your Mac.

What is the benefit of doing so? Typing on a full sized keyboard is always much easier than using the numerical keypad for input, and sometimes it's easier to find the person on Address Book or the person's number is not on your mobile yet.
As you can see from the screenshot above, it is also possible to use the Mac (via Address Book) to dial the number. Mac is smart.
If your mobile is Sony Ericsson D750, K750 and W800, you will need to follow this quick instruction before you can use your mobile phone directly from Address Book.
(You will need a Mac with Bluetooth and a Bluetooth enabled mobile.)
Join our discussion - "send SMS from your Mac (with your mobile)" at SillyDog701 Message Centre.
Posted by Antony at December 17, 2006 9:23 AM
>> more
MacCentre701 December 2006 reports
.