Aperture 2.1 with open plug-in architecture
Apple released Aperture 2.1 with open plug-in architecture that lets photographers use specialised third-party imging software from right within Aperture. Available today as a free software update, Aperture 2.1 includes the Apple-developed plug-in, Dodge & Burn, which adds brush-based tools for dodge (lighten), burn (darken), contrast, saturation, sharpen and blur. Over the coming months, third party software developers will deliver image editing plug-ins for localized editing, filters and effects, noise analysis and reduction, fisheye lens correction and more.
Aperture 2.1 is available immediately as a free software update to current Aperture 2.0 users.
advertisement: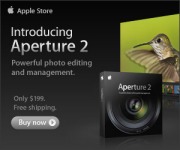 Major new features of Aperture 2 includes optimised for speed, intuitive and accessible, powerful image processing, and superior integration.
Apple is offering Aperture 2.1 a 30 day free trial.
Aperture 2.1 requires any Mac with Intel processor, or iMac with 1.8GHz or faster PowerPC G5, Power Mac G5, or 15-inch or 17-inch PowerBook G4 with 1.25GHz or faster PowerPC G4 processor. 1GB of RAM is minimum except for Mac Pro which requires 2GB. Aperture 2 runs on Mac OS X 10.4.11 or 10.5.2 or later. Aperture 2 is available at a new low price - US$199 or just US$99 for upgrading from Aperture 1.x.
Apple first introduced Aperture in October 2005 with a price tag of US$499, and released Aperture 1.5 as free update in September 2006 (then US$299). The last version Aperture 1.5.6 was released on 26 October 2007, addressing Mac OS X Leopard compatibility issue. Aperture 2.0 was released in early February this year.
For more information about Aperture 2.1, please visit Aperture 2 website.
Join our discussion - "Apple updates Aperture 2.1 with open plug-in architecture" at SillyDog701 Message Centre.
Posted by Antony at March 28, 2008 5:26 PM
>> more
MacCentre701 March 2008 reports
.