ForkLift 50% off promotion

ForkLift
If you feel Mac OS X's Finder is not powerful enough, BinaryNights has a great product for you.
ForkLift 1.5.1
is now available. We also have a great news for you, please continue reading.
Perhaps ForkLift is not that well known, and perhaps it only first released in May last year. ForkLift is a powerful replacement for Finder, while maintaining the beautiful OS X feel. Mac OS X Leopard has improved the Finder with a number of features such as QuickLook, ForkLift simply enhances Leopard and added a number of missing features in Finder.
Join our discussion - "ForkLift 1.5 and 50% off promotion" at SillyDog701 Message Centre
advertisement:
ForkLift features dual pane file manger interface allowing easy file manipulation between two locations which can be local or any shared Mac or even remote servers.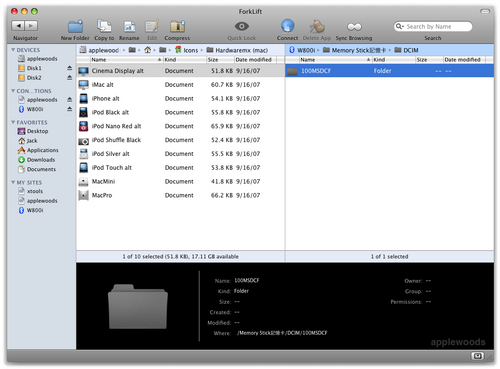 ForkLift provides a handful of tools such as archiving, batch rename files, delete unused applications, use direct FXP copy between file servers, Sync Browsing, splitting and combining files, et cetera.
And you don't need a FTP client, with ForkLift, you can easily connect to FTP, SFTP and WebDAV servers, and iDisk accounts, as well as your Bluetooth enabled devices.
MacCentre701's sister site applewoods has a good news for us. We are providing a time limited 50% off promotion to our readers.
To take this great offer, simply enter "APPLEWOODS" in BinaryNights Store page.
(Please remember that this offer ends on 17th April 2008 )
Simply use promotional code and you can have ForkLift legally for less than $15.
ForkLift is a file manager and SFTP/FTP client for mac OS X, similar to Total Commander and FreeCommander on Windows. ForkLift is available as a 15-day free trial, the regular price is US$29.95.
link 1: ForkLift (binarynights)
link 2: ForkLift:applewoods 半價促銷 (applewoods)
Join our discussion - "ForkLift 1.5 and 50% off promotion" at SillyDog701 Message Centre
Posted by Antony at April 13, 2008 8:03 AM
>> more
MacCentre701 April 2008 reports
.