Aperture 2.1.4 update
Apple released an update for its professional photo editing software Aperture making the version to 2.1.4. Available today as a free software update from Aperture site or Apple Software Update, this update is recommended for all Aperture 2 users.
Aperture 2.1.4 improves overall stability and fixes issues related to importing, web publishing, creating and ordering books.
Aperture 2.1.4 is available immediately as a free software update to current Aperture 2 users.
advertisement: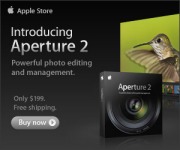 This update addresses general compatibility and overall stability in the following areas:

Creating books
Ordering books and prints
Slideshows
The update is recommended for all users of Aperture 2.

For detailed information on this update, please visit this website: http://support.apple.com/kb/HT3604
Apple is offering Aperture 2.1.4 a 30 day free trial.
Aperture 2.1 requires any Mac with Intel processor, or iMac with 1.8GHz or faster PowerPC G5, Power Mac G5, or 15-inch or 17-inch PowerBook G4 with 1.25GHz or faster PowerPC G4 processor. 1GB of RAM is minimum except for Mac Pro which requires 2GB. Aperture 2 runs on Mac OS X 10.4.11 or 10.5.2 or later. Aperture 2 is available at a new low price - US$199 or just US$99 for upgrading from Aperture 1.x.
Apple first introduced Aperture in October 2005 with a price tag of US$499, and released Aperture 1.5 as free update in September 2006 (then US$299). The last version Aperture 1.5.6 was released on 26 October 2007, addressing Mac OS X Leopard compatibility issue. Aperture 2.0 was released in early February 2008, then in March 2008, Aperture 2.1 was released with open plug-in architecture allowing photographers use specialised third-party imging software from right within Aperture.
For more information about Aperture 2, please visit Aperture website.
Posted by Antony at August 27, 2009 6:18 PM
>> more
MacCentre701 August 2009 reports
.